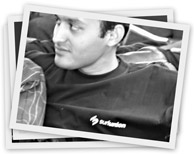 I am a usability analyst for systems, applications and website user-interfaces. An art school graduate and a Certified Usability Analyst (CUA) I help to bring an end-user perspective into software design to optimize specific user tasks. You can find my detailed profile on LinkedIn. In addition to this I also take pictures and post them on Flickr. You can follow me on Twitter to discover more.
What is Usability?
ISO 9241-11 defines Usability as the extent to which a specified product can be used by a specified user with effectiveness, efficiency and satisfaction to achieve a specified objective. And it is my favourite definition. There are others who have defined usability as well, like Jakob Nielsen or you can go over to Wikipedia for a more in-depth insight on Usability Engineering. It is an area which is closely linked to human-computer interaction as well.
Why is Usability important?
Most present day websites and applications often fail to consider end-user abilities and requirements such that users find it hard to complete their tasks or are unable to locate an information they desperately seek. Eventually the bad experience prompts them to switch off and they may never return again. Usability prevents overlooking the critical part of the software development life cycle — the end-user.
Usability as a methodology can improve development productivity as well – when developers consider the user needs and abilities they'll not invest time and energy into building features which the users don't need. This culminates into efficient coding and fewer revisions.
Usability provides for early testing with end-users to validate the functionality of the product. This eliminates over-design and puts the emphasis on the requirements of real users. Moreover it makes it easier to discover design problems early in the development life cycle, saving both time and money.
Lastly a usable product gives a satisfying experience to the end-user and a better reputation for the organization which developed it.