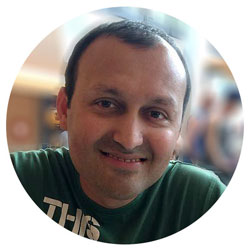 HELLO! I'M BHOOSHAN PANDYA.
I'm a Design Thinker and Product Consultant based in Toronto ON, I work with clients in promoting a 'user-first' approach for digital products and design management.
I've been blogging since 2005, I also tweet and post pictures on Instagram. After graduating in Applied Arts I brought my passion for user-centered design in helping customers by using techniques from human-computer interaction, information sensing, navigation models, digital strategies, mobility, and information architecture in connecting the emotional aspects of the product with its intended audience. I'm an experienced Certified Usability Analyst (CUA) professional with over 16 years of a broad-based design exposure.
THOUGHT LEADERSHIP IN HUMAN-CENTERED DESIGN & DESIGN THINKING
I intend to provide a holistic thought leadership towards my passion for Human-Centered Design and Design Thinking. For quite a while the topic of 'Design' has been consigned to discussions around technology, user experience, design tools, and aestheticism, but with my expertise in the areas of design management, IT, and UX consulting, I believe that not all design is aimed at capturing the essence of human emotions alone. Design is what works and which is sustainable in the long term be it a digital product or an affordable housing project for first-nations people. In that, I'm inspired by IDEO's philosophy of Human-Centered Design, and with Frog's insights in their DesignMind blog.
YOU MAY BE INTERESTED IN MY WORK!
I approach design strategically for enterprise-level applications and digital products, aligning it with technology and business objectives for crafting new and innovative solutions with a 'user-first' approach.
I've worked on digital products and branding projects, you can view my online portfolio or check my resumé for more details.